January 18, 2018
RAPP Brazil has just released a campaign for the new BMW Motorrad R 1200 GS, one of the most famous motorcycles produced by the German brand. According to Luciana Francisco, Senior Marketing Manager at BMW Motorrad, the new "Exotic Animals – R 1200" campaign highlights the adventurous quality of the motorcycle under a new light: biodiversity.



"The explorer spirit of the BMW R1200 GS, which elicits an attitude of facing and overcoming challenges, is totally in tune with the discoveries provided by encounters with exotic species of the wild fauna. Sharing these discoveries with BMW Motorrad's fans, through social networks, makes us see the motorcycle in diverse and unique ways, including as a passport for unforgettable moments," she explains.



With the premise "You discover, you name it," the agency explores all of the discoveries consumers encounter while riding their BMW. Beautifully visual in nature, the campaign was designed entirely for Instagram stories.

According to André Pasquali, Co-President at RAPP Brazil, "This tool has been working as a diary for people, who show their lives with followers. Therefore, a digital logbook would be perfect to impact our consumers and encourage them to live new adventures and share them in their social universe."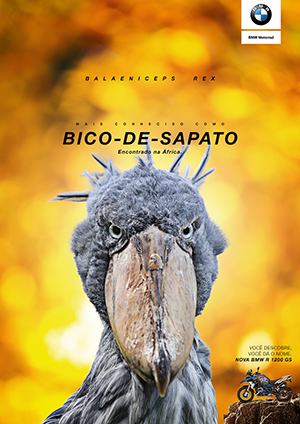 Felipe Andrade, Creative Director at the agency, says that, "The idea was to present images of exotic animals, which people didn't know about, that the rider might encounter while on an adventure with their BMW Motorrad". The campaign is comprised of six posters and made the concept of the campaign tangible, because within each of these posters you can see the animal, its scientific name, the location in which this animal is usually found and, obviously, the "fantasy name" given to it by the person who found it."