March 20, 2017
By Dave Scott, SVP, Group Creative Director, RAPP LA

This year was my very first at South By South West, though I've wanted to go for ages – drawn to this Austin convention's near-legendary status as the perfect mix of creativity and tech. I'd see friends' social media posts from there and wish I was amongst it. What a great time there was to be had, all the new tech, the music, the atmosphere, the BBQ.

But then, again, life through the lens of the Facebook does have a tendency to shine a bit brighter than in the real world, doesn't it? Nobody told me, or I chose not to listen (probably the latter), about the queues for sessions, the hours in uncomfortable seats, surviving on a Snickers for lunch, so as not to miss a session you inevitably don't even get into, more queues, sessions titled like clickbait to get an audience and… did I mention the queues?

For me, SXSW was nothing like I'd hoped and yet everything I'd hoped. Maybe more. When you're the one stuck back at the office, it's easy to look at those going to SXSW, with envious eyes, and think they're off on a holiday – because that's what the Instagram shots of the grinning idiots in the VR headsets seem to be doing. But that's about as far from the truth as it gets. The days are long. Getting in my first line at 8AM and finishing sessions at 6PM, spending hours in those few queues I mentioned, taking as many notes as possible and discussing everything, every chance I got to catch up with my team. It all felt a bit more like exam week at University than a creative day out. After five days straight, I found myself somewhat relieved to see the interactive sessions thinning out a little which allowed me to finally pace myself. It really did take me days to get the measure of it all.

LESSONS LEARNED
We landed in Austin late on Thursday night, got our passes and tote bags (full of paper versions of everything we'd already downloaded an app for) and grabbed a bite to eat with no actual idea where we were, in proximity to anything. Then jumped in a taxi to our hotel by the freeway, on the far side of the town. All illusions of swanning down to a gourmet breakfast in the middle of the action died there. Instead, we all got ear plugs from reception the following morning. Lesson learned: Always opt for the ear plugs.

We were on the road at 9AM on Friday morning, aiming to get stuck into the first sessions. In reality, we got stuck in traffic. SXSW is a big deal in Austin. Roads get blocked, parking meters get covered in posters and the cops look mildly amused while, presumably, very bored. Once we made it into the heart of downtown Austin, it became clear that the venues aren't as close together as we'd hoped (it rarely works out that the sessions you want to attend are housed in the same building). Our days of planning a schedule began to look like time wasted. Lesson learned: Give yourself ample time to navigate the chaos.

Days one and two were jam-packed with things to see. In terms of new information, it's like drinking from a fire hydrant. I double and triple booked myself – making the decision to see a talk by Disney on AI and machine learning meant missing out on a talk from a former CIA operative on clandestine cyber missions. Do I go see the Next Gen Of Tech Innovation? Or Biometric Storytelling On Mount Everest? I was still finding my feet but, little by little, stumbling across really inspiring speakers and clever tech - or simply trying things I'd never done before. In the best way possible, it was an overload of stimulation. It was purely by accident that I wandered into the Hyphen-Labs art/tech installation, "NeuroSpeculative AfroFeminism" – and that turned out to be one of the best things I saw for the entire time I was there. Lesson learned: Always go see the demo where they give away the brain shaped candy.

The flip side to this is that it's easy to think you don't know what you're doing. In several cases, the sessions I was excited to attend ended up being totally uninspiring. Worse still, my work emails began to pile up – there was a team, back in LA, covering for me and I was feeling guilty. Problem was, I was being too formal with it all. I actually was doing it wrong, but not in the way I thought. If you can't make your next session, blow it off. Find another. If you can't get into the most popular session, that's cool. Scope out a weird something-else that's nearby. If the session you're in isn't living up to your expectations, leave. Go see some amazing tech demo. SXSW is about the experience wholly, not about the individual sessions. It's genuinely greater than the sum of its parts. Lesson learned: If you're going to make the most of your South By experience, be flexible.

I saw a Bishop from the Vatican discuss the church and social media, heard both, on separate occasions, that AI is more amazing than I thought and that it's actually rubbish, heard Bill Ford (Ford), Sammy Hagar (Van Halen) and Jon Snoddy (Disney) speak on anything and everything that piques their passion, I met an astronaut, saw someone live paint in 360 VR, took a virtual trip to the Hubble telescope and filled 25 pages of my notebook.

It took years for me to get to SXSW, and I now fully understand how lucky I am that I got to go. When your turn comes embrace it, you'll come out the other end tired, but fulfilled.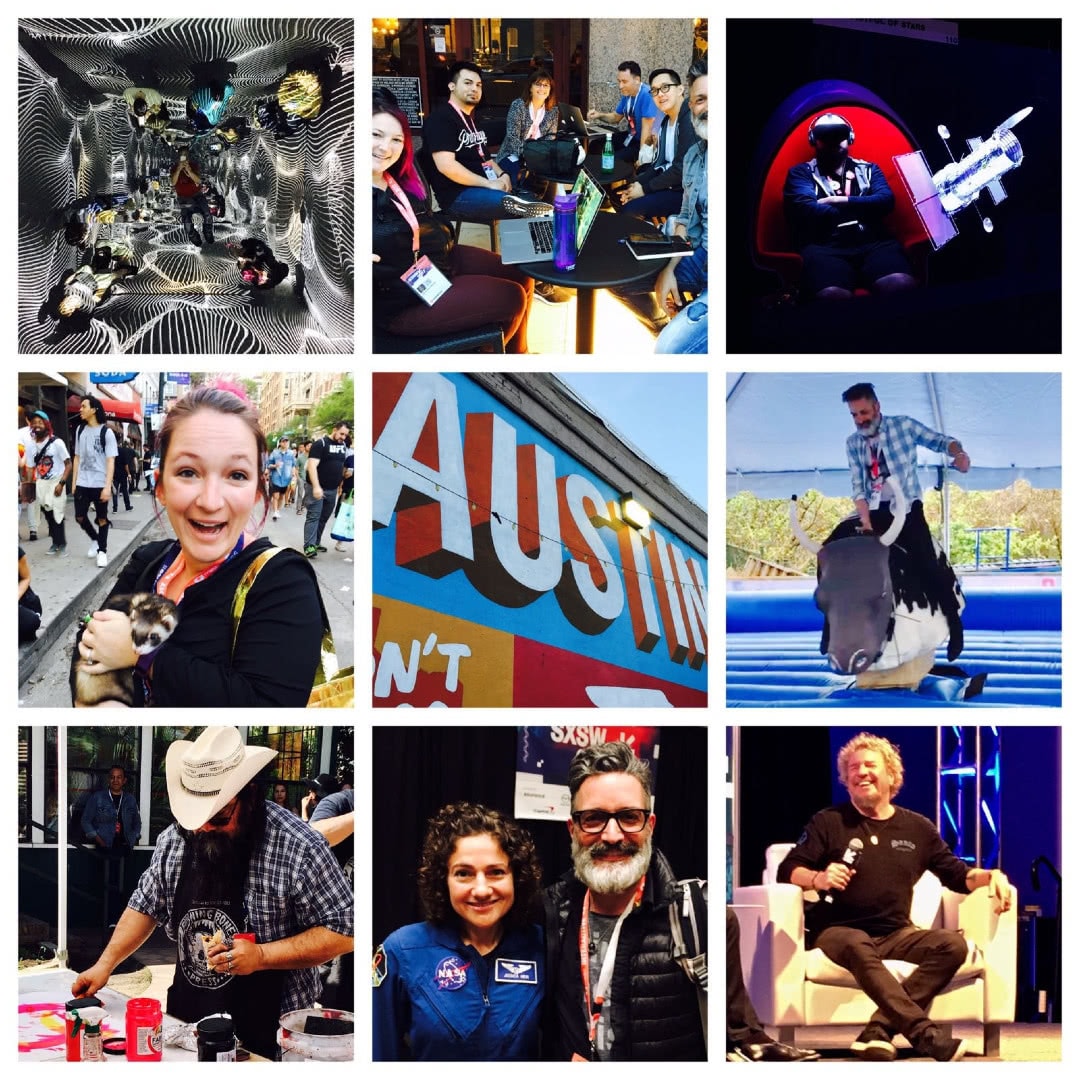 Oh, and the mechanical bull? Well, when you walk past a mechanical bull and your Creative Director suggests you have a go on it in the interests of team morale, as it will "make a great gif," ignore her. Nobody stays on the bull. Another lesson learned.